Berodual (Fenoterol + Ipratropium bromide) solution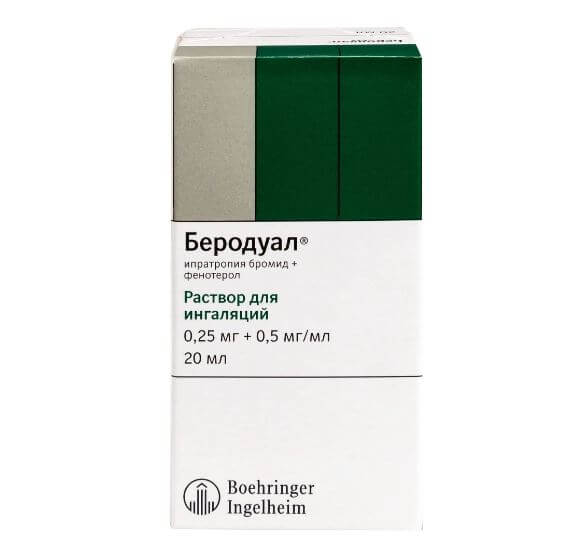 Instructions for Berodual (Fenoterol + Ipratropium bromide) solution for
English product name
Berodual®
Release Form
Inhalation solution
Release Form
Solution
Composition Berodual
Phenoterol hydrobromide 500 μg; ipratropium bromide monohydrate 261 μg; in terms of anhydrous ipratropium bromide 250 μg; Adjuvants: benzalkonium chloride, didetate dishydrate dinatria, sodium chloride, chlorohydrate 1h, purified water.;20 ml - bottles of dark glass with polyethylene drip and screwed polypropylene cap with first dissection control (1) - cardboard packs.
Pharmacological effect Berodual
Combined broncholytic drug. It contains two components with broncholytic activity: ipratropium bromide, m-cholinoblocker, and phenoterol hydrobromide, beta2-adrenomimetic.;Bronchodilation in inhalation of ipratropium bromide is mainly due to local, rather than systemic, anticholinergic action.;Ipratropium bromide is a quaternary ammonium derivative with anticholinergic (parasympatolytic) properties. The drug inhibits the reflexes caused by the vagus nerve by inhibiting the effects of acetylcholine, a mediator released from the vagus nerve endings
Testimony Berodual
Prophylaxis and symptomatic treatment of chronic obstructive airway diseases with reversible airway obstruction, such as bronchial asthma and, especially, COPD, chronic obstructive bronchitis with or without emphysema.
Method of use and doses Berodual
Treatment should be performed under medical supervision (e.g. in hospital). Treatment at home is possible only after consultation with a doctor in cases where the fast-acting agonist of β-adrenoreceptors in a low dose is not effective enough.
In cases where there is wall oxygen, the solution is best applied at a flow rate of six to eight l/min.;Follow the instructions for use, maintenance and cleaning of the nebuliser.
Categories: Respiratory system
Berodual (Fenoterol + Ipratropium bromide) solution reviews
Be the first to write a review of this product!