Berodual N (Fenoterol, Ipratropium bromide) aerosol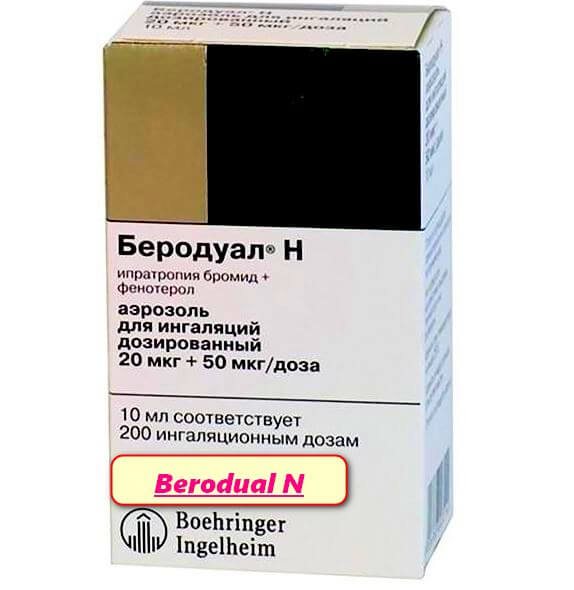 Instructions for Berodual N (Fenoterol, Ipratropium bromide) aerosol for inhalation
English product name
Berodual® N
Release Form
Aerosol for metered inhalations
Active substances
Ipratropium bromide + Phenoterol
Release Form
Aerosol
Composition
Phenoterol hydrobromide 50 μg;ipratropium bromide monohydrate 21 μg; corresponding to 20 μg ipratropium content; Adjuvants: ethanol absolute - 13.313 mg, water purified - 0.799 mg, citric acid - 0.001 mg, tetrafluoroethane (HFA 134a, propellant) - 39.070 mg.
Pharmacological effect Berodual N
drug . It contains two components with broncholytic activity: ipratropium bromide - m-cholinoblocker, and phenoterol hydrobromide - beta2-adrenomimetic. Bronchodilation during inhalation of ipratropium bromide is mainly due to local, rather than systemic anticholinergic action.; Ipratropium bromide is a quaternary ammonium compound that has anticholinergic (parasympatolytic) properties. Ipratropium bromide inhibits reflexes mediated by the vagus nerve.
Nosology (ICD codes)
J43
Emphysema
J44
Other chronic obstructive pulmonary disease
J45
Asthma
Testimony Berodual N
Prophylaxis and symptomatic treatment of obstructive respiratory tract diseases with reversible bronchospasm: — COPD; — bronchial asthma; — chronic bronchitis, complicated or not complicated by emphysema.
Method of use and doses Berodual N
The dose is administered individually.; Two inhalation doses are administered to adults and children over six years of age to control seizures. If breathing relief does not occur within five minutes, two additional inhalation doses may be prescribed
Categories: Respiratory system
Berodual N (Fenoterol, Ipratropium bromide) aerosol reviews
Be the first to write a review of this product!